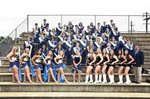 2017 Marching Blue and Gold

Philosophy
Music is the means by which we train the emotions. Music along with academics makes a well rounded individual. We believe that music and academics are an important part of every student's education. Band is open to all students at Headland High School without discrimination because of sex , race or intellectual ability. Band is the musical performance group at Headland and all who are involved can benefit from it. Some of these benefits are self-discipline, high self-esteem, cooperation, teamwork, and self-expression. Band is a social activity where social skills can be learned. Therefore, all trips and activities are planned with this in mind.
Marching Band
The Marching Blue and Gold is open to all students proficient on any band instrument. The goal of the Marching Band is to create enthusiasm and school spirit at all football games, Parades and Community events. The Marching Band will concentrate on marching maneuvers and music, which will be performed at half time and marching festivals. Tone production, breath support, good technique and good music fundamentals will be expected from all participants.
The Concert Band
The concert band is also open to all students who would like to participate in the concert band. All members of the Marching Blue and Gold will become members of the concert band. Because Headland is a small county school system, it is required that all students wishing to march in the Blue and Gold must be a member of the concert band. The concert band will continue to work towards good tone production, breath support, good techniques and good music fundamentals. Performances of the concert band will include a christmas concert, Music Performance Assessment, a spring concert, and any other performance deemed beneficial by the band director.
Rhythm and Ram's Jazz Band
The Rhythm and Ram's Jazz band is selected by the Director through audition and/or appointment. It is a group of 12 to 15 students that give of their time before or after school to rehearse Jazz music. Instrumentation for this group will include: Saxes, Trumpets, Trombones, Guitar, Bass Guitar, Keyboard, and Drums. Time to meet will be determined by the group. This group will perform at the Christmas concert, Spring concert, Solo and Ensemble and any other performance venues determined by the Band director.